Sun, Dec 3 @

10:45 am

Sun, Dec 10 @

10:45 am

Sun, Dec 17 @

10:45 am
SHAPE Youth Hub – Monday November 27 and December 11, 2023
Youth grades 6-12 are welcome to join us for SHAPE at Living Water Fellowship Monday November 27 and December 11 from 7pm – 9pm. 
SHAPE runs every other Monday from 7-9pm.
Young Families Christmas Crafts – December 2, 2023
Drop-in from 2-5pm on December 2nd and make some crafts! The cost is $2 per "crafter" and parents are free. There will be multiple crafts to choose from so there is something for everyone.
The community closet will also be open from 2-5pm.

Psalm 34:8 Life Group is starting January 3rd, 2024
Good news! A new Life Group called Psalm 34:8 is starting on 
January 3rd, 2024
! This group will be meeting
the 1st Wednesday
 of every month, from approximately 5:30-7:00pm. 
Call or text 519-722-1532 to contact Sandi, or connect with her after church.
Ladies Winter Retreat – February 2-4, 2024
Save the date! The Ladies Retreat will be held at Hidden Acres Camp again this year. More details to come.
Sunday school is available for all ages (children, youth, and adults) from 9:30-10:30am before the service. All are welcome to join!
Come on out Wednesday nights at Living Water Fellowship for bible studies, or join us at our next youth event! Youth grades 6-12 are welcome.
  Junior Youth: Wednesday nights from 6:00pm-7:30pm. Grades 6-8.
  Senior Youth: Wednesday nights from 7:30-9:30pm. Grades 9-12.
 Email youthpastor@lwfchurch.ca for more information.
Community Closet - Now open the first Saturday of every month!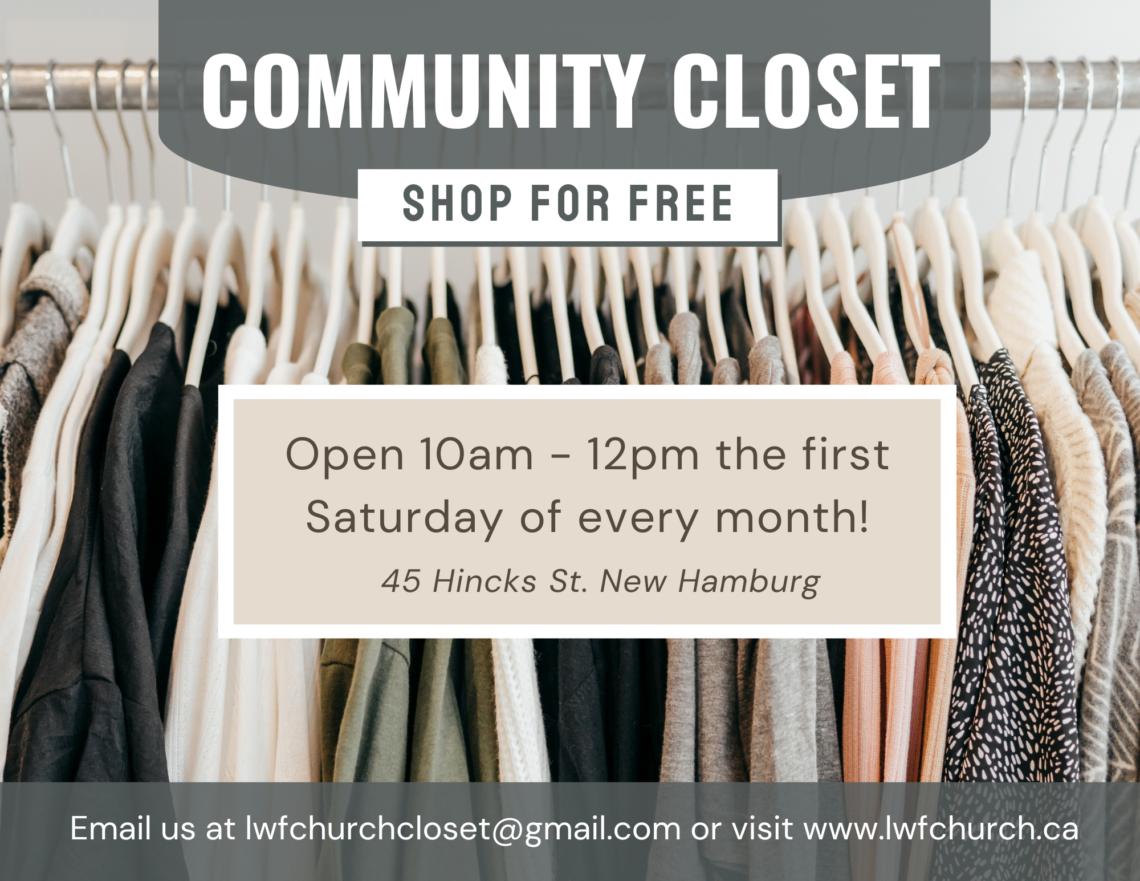 Sermons are now available on the website
Please go to the sermons tab to access the most recent sermons.
At Living Water we are a community of people who are being transformed by the grace of God through a personal relationship with Jesus Christ. Our mission is to go out and bring God's love to life by living and loving like Jesus and inviting others to do the same.